Retinue is a gameplay mechanic introduced with the Blazing Deserts DLC.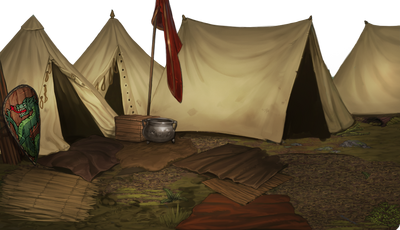 Here you can see your retinue of non-combat followers that grant various advantages outside combat and upgrade your cart for more inventory space.
Followers
[
]
The Agent
Cost: 4.000

The Agent has eyes and ears everywhere and knows where to go for current events to take advantage of and well-paying contracts both.





Reveals available contracts and active situations in the tooltip of settlements no matter where you are

Have 90 Relations (allied) with a noble house or city state
The Alchemist
Cost: 2.500

The Alchemist is knowledgeable in crafting all kinds of mysterious contraptions and concoctions from exotic ingredients when given access to taxidermist equipment, and uses less material to do so.





Has a 25% chance of not consuming any crafting component used by you

Unlocks Snake Oil recipe to earn money by crafting from various low tier components

Craft 15 items at the Taxidermist
Have the

Beasts & Exploration DLC

installed
The Blacksmith
Cost: 3.000

Mercenaries are good at getting arms and armor destroyed, but not at maintaining them. The Blacksmith will take care of this tedious task quickly and efficiently, and can mend even equipment otherwise thought lost.





Increases repair speed by 33%
The Bounty Hunter
Cost: 4.000

This colorful Bounty Hunter has a pocket full of contracts on the most dangerous individuals. He knows how to get them from hiding and will pay handsomely for any bounty fulfilled.





Significantly increases the chance of encountering Champions (+3%)

Pays between 300 and 750 for every Champion slain

Have 3 Named or Legendary items in your possession
Have the

Warriors of the North DLC

installed
The Brigand
Cost: 2.500

The Brigand may be old and weak now, but at one point his name was feared across the land. In exchange for a hot meal he happily shares with you what he learns from his contacts about caravans on the road.





Makes you see the position of some caravans at all times and even if outside your sight radius
The Cartographer
Cost: 2.500

The Cartographer is a man of culture and knowledge, but he also realizes that traveling in the company of well-armed mercenaries is one of the best ways to safely see the world and explore places that few visited before.





Pays you between 100 and 400 for every location you discover on your own. The further away from civilization, the more you're paid. Legendary Locations pay double.
The Cook
Cost: 2.000

A good warm meal goes a long way towards healing body and mind. The Cook makes sure that no provisions go to waste, and provides the men with invigorating meals.





Increases hitpoint healing rate by 33%
The Drill Sergeant
Cost: 3.500

The Drill Sergeant was a mercenary once, but an injury ended his career prematurely. Now he drills discipline into your men and yells a lot to make sure that everyone learns from their mistakes.





Makes your men gain 20% more experience at level 1, with 2% less at each further level

Makes men in reserve never lose Mood from not taking part in battles
The Lookout
Cost: 2.500

Having a quick Lookout with sharp eyes travel in advance of the company can prove invaluable in being aware of dangers and points of interests before others become aware of the company.





Increases your sight radius by 25%

Reveals extended information about footprints
The Minstrel
Cost: 2.000

A good song and story play a large part in creating the reputation of a company. The Minstrel is a master of these crafts and will help to spread the word about your deeds to all ears - willing to hear them or not.





Makes you earn 15% more Renown with every action

Visit every settlement on the map
The Negotiator
Cost: 3.000

The Negotiator is home to noble courts and fancy halls, and not used to travelling with a band of sellswords with muddy boots, but he is an expert on traversing the mire of social relations and contract negotiations.




The Paymaster
Cost: 3.500

The Paymaster takes care of all the day-to-day financial and organizational aspects of running a mercenary company, like paying out wages.





Reduces the daily wage of each man by 15%

Prevents men demanding more pay in Events

Prevents the following events from happening:
The Recruiter
Cost: 3.000

The Recruiter is a sleazy jawsmith that tricks desperate people into joining a mercenary company to escape their poor lives, only to find their demise. Quite useful for anyone running a mercenary company.





Makes you pay 10% less up front for hiring new men, and 50% less for tryouts

Makes between 2 and 4 additional men available to recruit in every settlement
The Scavenger
Cost: 3.000

Whether the son of one of your men or an urchin you took pity on, the Scavenger pulls his weight by collecting bits and pieces from every battlefield.





Recovers a part of all ammo you use during battle

Have a heart

Recovers 10-20% of spent ammo.
Only fully destroyed (not just damaged) enemy body armor and helmets are eligible for tools recovery.
Recovers up to 15% of tools needed to repair destroyed armor, capped at 60 tools. The actual amount recovered can be as low as half of that. In other words, the number of tools recovered is equal to 0.5-1% of maximum durability of destroyed enemy armor.
The Scout
Cost: 2.500

The Scout is an expert in finding mountain passes, navigating through treacherous swamps, and guiding anyone safely through the darkest of forests.





Makes the company travel 15% faster on any terrain

Prevents Sickness and accidents due to terrain

Prevents the following events from happening:
The Surgeon
Cost: 3.500

The Surgeon is a walking tome of anatomical knowledge. A mercenary company seems the perfect place both to apply that knowledge in healing, but also to learn more about how the insides of men are made up.





Makes every man without a Permanent Injury guaranteed to survive an otherwise fatal blow

Makes every Injury take one less day to heal
The Trader
Cost: 3.500

Southern traders are renowned for their bartering skills. Lucky you that you could convince one such master of haggling to join your company. And at such a bargain!





Increases the amount of Trade Goods for sale by 1 for each location that produces them, like salt near salt mines, allowing you to trade at higher volumes
Cart Upgrades
[
]
| Donkey | |
| --- | --- |
| This is your donkey. You start with 99 inventory slots. More or less depending on the chosen Origin. | |
| Cart | Cost: 5.000 |
| --- | --- |
| You can choose to buy a cart in order to gain 27 more inventory slots. | |
| Wagon | Cost: 10.000 |
| --- | --- |
| You can choose to buy a wagon in order to gain 27 more inventory slots. | |
| Big Wagon | Cost: 20.000 |
| --- | --- |
| You can choose to buy a big wagon in order to gain 27 more inventory slots. | |
Unlocking Follower Slots
[
]
Follower slots are unlocked when you reach a certain Renown level.
| Renown Level | Renown Score | Number of Slots |
| --- | --- | --- |
| Treacherous | -500 | 0 |
| Incompetent | -250 | 0 |
| Unreliable | -100 | 0 |
| Unknown | 0 | 0 |
| Recognized | 250 | 1 |
| Reliable | 500 | 1 |
| Competent | 750 | 2 |
| Professional | 1050 | 2 |
| Reputable | 1400 | 3 |
| Famed | 1800 | 3 |
| Great | 2250 | 4 |
| Glorious | 2750 | 4 |
| Fabled | 3350 | 5 |
| Legendary | 4000 | 5 |
| Invincible | 8000 | 5 |
| Immortal | 14000 | 5 |