Sustaining a temporary injury is quite common and usually results in nothing more than having to walk it off. I suggest when a man is severely injured however, putting him into the camp and allowing him time to heal. Orcs and Goblins love to knock the near dead. Also, make sure to have medicine on hand! If you do not, no healing will be done.
Making use of a Chapel's service will halve an injury's estimated healing time and prevents it from becoming infected.
Overview
Edit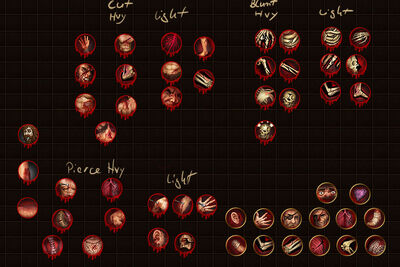 With a single attack, there's an absolute minimum amount of 10 hitpoint damage required in order to inflict any injury, and then for any possible type of injury there's a relative amount required. The exact amount varies with different injuries but it is generally between 25% and 50% of the victim's maximum hitpoints. The more damage inflicted with a single attack, and the less maximum hitpoints the victim has, the more likely and more severe the injury will be. There is no random element to this The perk "Crippling Strikes" lowers the threshold to inflict injuries by 33%, meaning that those 25% mentioned above would become ~16.5% and so on. The Perk is both more likely to inflict any injury at all, and more severe ones as well.[1]
Note : Sustaining injuries in combat will automaticly trigger a moral check for the foe or ally concerned. This moral check is personnal. It will almost always lower the moral decreasing even more the combat abilities of someone. If the moral is lowered for a foe it's will and obviously never raise it. It will not boost the moral of the inflicter either. A Foe can sustain an injury without having his moral lowered, it dépends on the resolve of his. Low morale foes, will, almost Always, have their morale lowered (ex: brigand thugs, orcs, goblins). Finally, injuries can only be applied to living creature.
General Injuries
Edit
Injury
Description
Effect
Healing Time (days)
Temple Healing Cost
Infected Wound

An unclean wound has painfully festered, draining this character's constitution.
-25% Hitpoints
-25% Max. Fatigue
2 to 4
90
Sick

Struck with sickness and disease, the character isn't feeling well at all and hardly in a condition to fight.

If the fever doesn't take him it'll probably pass in time.

-25% Hitpoints
-25% Max Fatigue
-25% Initiative
-25% Resolve
-25% Melee Skill
-25% Ranged Skill
-25% Melee Def.
-25% Ranged Def.
-2 Vision
1 to 3
240
Bruised Leg

A heavily bruised leg severely limits mobility, but won't take long to recover from.
1 Additional Action Point per tile moved

-20% Initiative

2 to 3
90
Blunt Injuries
Edit
Injury
Type
Description
Effect
Healing Time (days)
Temple Healing Cost
Broken Leg

Heavy
A broken leg severely limits mobility and can take a long time to heal.
2 additional Action Point per tile moved,
-40% Initiative
5 to 7
270
Dislocated Shoulder

Heavy
A hard hit has knocked the shoulder out of its joint, making it hard to move the arm at all
-3 Action Points
5 to 7
270
Smashed Hand

Heavy
A hand smashed by blunt force makes it almost impossible to hold on any kind of weapon.
-40% Melee Skill
-40% Ranged Skill
3 to 6
200
Broken Ribs

Heavy
Several ribs have been broken by brute force, making every single breath a painful process.
-40% Max. fatigue
5 to 7
170
Fractured Ribs

Light
Fractured ribs send a wave of pain through the body with every breath.
-30% Max. fatigue
2 to 4
100
Fractured Skull

Heavy
This character's skull has sustained multiple fractures, and the brain has sustained blunt trauma leading to swelling and a build-up of pressure inside the skull.
-50% Melee Skill
-50% Ranged Skill
-50% Melee Defense
-50% Ranged Defense
-50% Initiative
-2 Vision
6 to 9
350
Sprained Ankle

Light
A Sprained Ankle makes even the quickest man hobble across the battlefield.
1 additional Action Point per tile moved,
-20% Initiative
1 to 3
100
Fractured Hand

Light
Minor bone fractures at the hand make it difficult to hold firmly any weapon.

-20% Melee Skill

-20% Ranged Skill

3 to 4
100
Crushed Finger

Light
An unlucky hit crushed a finger, making it painful to maintain a firm grip.
-5% Melee Skill
-5% Ranged Skill
1 to 3
100
Fractured Elbow

Light
A fractured elbow makes it hard to block or parry any attacks effectively.
-25% Melee Defense
2 to 5
130
Severe Concussion

Heavy
A severe concussion makes it hard to focus, see or even walk straight. Not to mention the nausea and in some cases amnesia.
-50% Melee Skill
-50% Ranged Skill

-50% Melee Defense

-50% Ranged Defense

-50% Initiative

-2 Vision

3 to 5
120
Broken Arm

Heavy
A broken arm makes it almost impossible to use any weapon effectively.
-50% Melee Skill
-50% Ranged Skill
-50% Damage Inflicted
4 to 7
230
Broken Nose

Light
Blunt force broke this character's nose, making it hard for them to catch breath properly
-5 Fatigue Recovery per turn
3 to 5
150
Incised Wounds
Edit
Injury
Type
Description
Effect
Healing Time (days)
Temple Healing Cost
Cut Achilles Tendon

Heavy
An injury like this makes even the quickest man hobble across the battlefield.
2 additional Action Point per tile moved
-30% Initiative
3 to 5
170
Cut Arm

Light?
A deep cut at the arm makes it difficult to use.
-15% Melee Skill
-15% Ranged Skill
2 to 4
100
Cut Arm Sinew

Light?
A partialy cut arm sinew makes it difficult to put force into any strike.
-40% Damage Inflicted
4 to 7
230
Deep Abdominal Cut

Light
A deep cut at the abdomen has injured the muscle and makes it painful to move or even stand upright, reducing the constitution of this character.
-25% Hitpoints
-25% Max Fatigue
3 to 4
120
Deep Chest Cut

Heavy
A deep, bleeding cut into the chest and pectoral muscle makes it hard to keep standing.
-30% Hitpoints
-30% Max. Fatigue
4 to 6
110
Exposed Ribs

Heavy
A deep cut to the side peeled the skin right off of this character's rib cage.
-35% Hitpoints
3 to 6
200
Split Hand
Heavy
A sharp cut split the hand right down the middle.

Until healed,it can barely be used anymore.

-50% Melee Skill
-50% Ranged Skill
5 to 7
170
Split Shoulder

Heavy
A deep cut has split this character's shoulder open, injuring the muscle tissue and severely limiting mobility of the arms.
-50% Damage inflicted
4 to 6
200
Cut Leg Muscles

Light
A cut into the muscles of the leg makes any quick and sudden movements impossible.
-40% Melee Defense
-40% Initiative
3 to 5
150
Deep Face Cut

Heavy
A jagged cut across the face is bleeding profusely over eyes, nose and mouth.
-25% Melee Skill
-25% Ranged Skill
-25% Melee Defense
-25% Ranged Defense
-2 Vision
2 to 3
90
Cut Neck Vein

Heavy
A vein on the throat has been cut, leading to massive hemorrhaging and ultimately death if no treated out of combat. If survived, it is followed by a period of severely lowered constitution due to loss of blood, and will leave a menacing scar.
-50% Hitpoints
1 to 4
130
Cut Artery

Light
An artery has been cut, leading to massive hemorrhaging and ultimately death if not treated out of combat. If survived, it is followed by severely lowered constitution due to loss of blood. This wound can be healed during combat with a bandage and it will not persist after the battle.

-3 Hitpoints Each Turn in Combat

-35% Hitpoints

1 to 2
70
Split Nose

Light
A close swing split this character's nose in two and made any attempt to breathe an exercise in swallowing copious amounts of blood.
-5 Fatigue Recovery per Turn
2 to 4
130
Stab/Pierce Wounds
Edit
Injury
Type
Description
Effect
Healing Time (days)
Temple Healing Cost
Grazed Kidney

Heavy
Abdominal pain, blood in the urine and always the danger of infection. A grazed kidney is a severe risk to the life of any character,draining their constitution.
-50% Hitpoints
3 to 6
200
Pierced Arm Muscles

?
A piercing attack has punctured the arm and injured muscle tissue, limiting it's mobility.
-25% Melee Skill
-25% Ranged Skill
3 to 4
130
Pierced Chest

Heavy
A piercing attack has punctured the chest, injured muscle tissue and grazed the ribs. Although no vital organs have been hit, it's still painful to just breathe.
-20% Max Fatigue
3 to 4
130
Pierced Leg Muscles

Light
Punctured leg muscles make any attempts to do quick and sudden movements a painful experience, if not outright impossible.
-30% Melee Defense
-30% Initiative
2 to 5
170
Stabbed Guts

Heavy
A wound at the intestines drains constitution, and the high chance of infection and the prospect of a slow and painful death doesn't help either.
-40% Hitpoints
3 to 5
190
Pierced / Injured Shoulder

Light
Injured muscles in the shoulder make it hard to put any force into a strike.
-25% Damage inflicted
2 to 4
160
Pierced Side

?
A piercing attack has punctured the side, injured muscle tissue and grazed the ribs. Although no vital organs have been hit, it's still painful to just breathe.
-20% Max Fatigue
3 to 4
130
Grazed Neck

Light?
A grazing wound on the neck bleeds profusely. If survived, it is followed by lowered constitution due to loss of blood. This wound can be healed during combat with a bandage and will not persist after the battle.

-1 Hitpoint Each Turn in Combat

-15% Hitpoints

1 to 2
50
Pierced Lung

Heavy
A second opening for air proves of little use, except for sounding like a bagpipe.
-60% Max Fatigue
4 to 7
280
Crushed Windpipe

Heavy
A blow to the neck injured the windpipe, making it very hard and painful to draw breath, let alone to keep fighting.
-10 Fatigue Recovery per turn
- 50% Max Fatigue
3 to 5
230
Injured Knee Cap
Heavy
The sensitive knee cap has been injured, resulting in pain with every movement and severely limiting the mobility of this character.
2 Additional Action Points per tile moved
-40% Initiative
4 to 8
230
Pierced Cheek
Light?
Dispite what you might think haveing a second hole in your face doesn't help breathing
-3 Fatigue Recovery per turn.
1 to 2
70
Pierced Hand

Light
Having a hole in the hand may not stop a determined fighter, but it does make handling a weapon more difficult.
-20% Melee Skill
-20% Ranged Skill
3 to 4
130
Ripped Ear

Light
This character`s ear almost got torn off, sending blood down their head and neck, and making them less aware of their surroundings.
-15% Initiative
1 to 3
110
Grazed Eye Socket

Light
A blow grazed and ripped the tissue close to the eye, causing it to fill with blood and swell shut.
-50% Ranged Skill
-2 Vision
2 to 4
160
Note : Costs indicated are maximum fees to pay at the temple. These can vary depending on the injury age, among other parameters.Settlement_buildings#Chapel
References
Edit