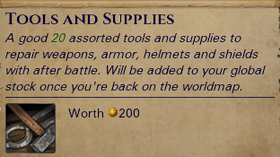 Description
[
]
Assorted tools and supplies to keep your weapons, armor, helmets and shields in good condition.
Where Can They Be Found?
[
]
Notes
[
]
One point is required to repair 15 points of item durability.
Items equipped and carried (in bag slots) by characters are automatically repaired.
Running out of supplies may result in weapons breaking in combat and will leave your armor damaged and useless.
In your stash, you can mark/unmark items to be repaired with Alt+Right-Click.
Maximum carrying capacity is determined by Economic Difficulty of the game: 150 - for Veteran, Expert; 200 - for Beginner.
The Quartermaster will increase carrying capacity by 50.
Items are repaired at 3 points of durability per hour (tick) rate.
The Blacksmith increases repair speed by

33%

.
When Camped or Escorting Caravan (contract) repair rate is doubled for the the same time interval.
Making a Camp comes at the expense of having less vision range and also being more visible to roaming enemies (more dangerous parties are often attracted at night).
It is also possible to preserve Tools and Supplies by repairing damaged equipment at settlements' Weaponsmith or Armorer, though at a higher cost (repair cost heavily depends on the item's worth value).
Battle Forged is also considered as a tools-saving perk.